A first look at Uber's test car (and why you'll see it around Pittsburgh)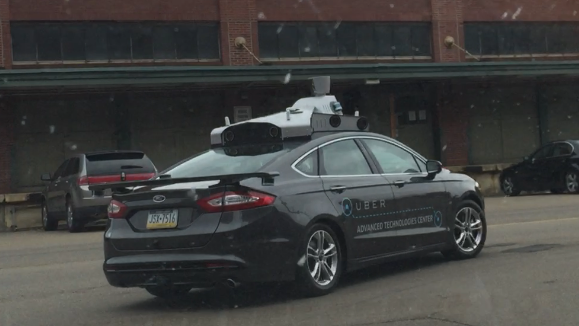 Uber's test vehicle driving in the Strip District on May 13, 2015.
If the words "Uber Advanced Technologies Center" emblazoned on the side of the vehicle weren't enough of a giveaway, the device rotating on the top of the vehicle signals this isn't your average Ford.
And it's likely you'll be seeing more on the road in Pittsburgh as the company builds out its local operations. Uber announced in February it would be opening an advanced technologies center in Pittsburgh to focus primarily on the areas of mapping, vehicle safety and driverless vehicle technology.
Smith declined to provide more details, and from a competitive standpoint, that isn't surprising. Uber is hardly the only company looking to take a stake in self-driving vehicle technology.
Uber's announcement it would be developing its own self-driving car technology put the company in direct competition with one of its biggest investors: Google (Nasdaq: GOOG).
Google has been working on driverless car technology since 2010 and has said it expects to have a finished product by 2020.